BUY RED BULL GRC SEATTLE TICKETS: Click here
PRESS IMAGES: Click here // PRESS CREDENTIALS: Click here
FACEBOOK EVENT PAGE: Click here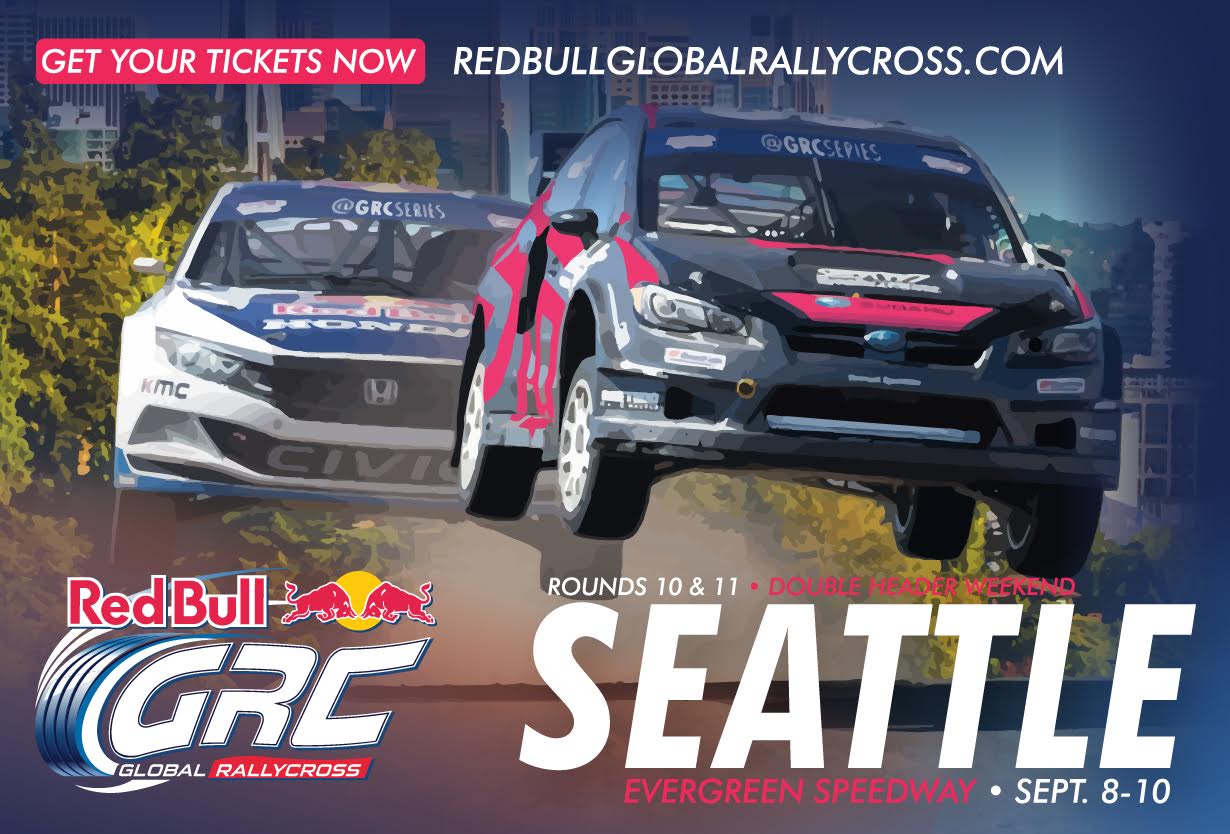 Los Angeles, CA (March 2, 2017) – Building off of last year's wildly popular debut, Evergreen Speedway will host the penultimate event of the Red Bull Global Rallycross season for the second year in a row in 2017. Red Bull Global Rallycross Seattle will be expanded to a doubleheader this year, staging Rounds 10 and 11 of the 12-round schedule on Saturday, September 9 and Sunday, September 10.
"Red Bull GRC fans showed up in full force to support the series' return to the Pacific Northwest in 2016, and we can think of no better way to reward their unwavering support than to bring them more action packed racing with a doubleheader event at Evergreen Speedway," said Red Bull GRC CEO Colin Dyne.
Evergreen Speedway president Doug Hobbs said, "Red Bull Global Rallycross is a world class racing series that we are proud to host at our facility. Fans who missed out in 2016 have been waiting for this release for the past six months. We know this year will be even bigger and badder than last year!"
In 2016, fans packed the stands of Evergreen Speedway to see drivers jostle for championship position at Red Bull Global Rallycross Seattle. Drivers will return to action on the same course layout this year, charging down the frontstretch into the banked Turns 1 and 2 before diving into the dirt infield and conquering the dirt, Joker Lap, and signature 70-foot jump.
In last year's Supercar final, fan favorite Tanner Foust became the first driver to win both drifting and rallycross events at the track, while also reclaiming the championship lead. In GRC Lites, Washington-based DirtFish Motorsports scored a dominant victory with Conner Martell, much to the delight of local fans. Both drivers are expected to attempt to defend their wins in 2017 against a field that includes two-time defending Supercar champion Scott Speed and a multi-car effort from fan favorites Subaru Rally Team USA.
Tickets for Red Bull Global Rallycross Seattle are on sale now at www.redbullglobalrallycross.com/tickets. General Admission and Club tickets are available. Tickets purchased at the door will be $5 more than regularly priced admission. All tickets include full access to the paddock, where fans can get up close to the cars and stars of Red Bull GRC. Kids 12 and under are free to attend with a ticketed adult. For more information visit www.redbullglobalrallycross.com, or follow Red Bull GRC on Facebook, Twitter, and Instagram at @GRCseries.
About Red Bull Global Rallycross
Created to produce the most exciting action in all of motorsport, Red Bull Global Rallycross combines the best elements of stage rally, off-road and circuit racing in a fan-friendly environment. International superstars battle wheel-to-wheel over dirt, gravel, and the series' signature 70-foot jump behind the wheel of 600 horsepower Supercars. Events also include the developmental GRC Lites class and a new electric division due to begin competition in 2018. For more information visit www.RedBullGlobalRallycross.com.
About Evergreen Speedway
Evergreen Speedway is located on the Evergreen State Fairgrounds in Monroe, WA, and is also home to Weekly NASCAR and Formula Drift. For more information visit http://www.evergreenspeedway.com.