The Super Speedway of the West, Evergreen Speedway, will kick off the 63rd season of racing on Saturday, April 1st. The season opener will feature six classes in action and will finish with the Speedway Chevrolet NASCAR Super Late Models in the Mighty 12's Alliance 100, presented by Coastal Community Bank.
One of the newest additions for the Super Late Models at Evergreen for 2017 is the Budweiser Crown Series, which features six-races and over $240,000 up for grabs. The Mighty 12's Alliance 100 is the first series race of the year, and is drawing in a big field of cars. The excitement at Evergreen is growing and is looking to be one of the biggest season openers in years. There will be a huge field of local drivers on hand, including past Super Late Model Champions Naima Lang, Mike Holden, Daniel Moore, Shane Harding and John Zaretzke. Two young guns chasing a Championship will be the 2016 SLM Rookie of the Year Trenton Moriarty and 2016 Street Stock Champion Chad Fitzpatrick, who will be racing SLM class full-time this year. Other local drivers chasing the hardware will be a huge group of hard chargers like Doni Wanat, Jeff Knight, Andy Sole, Tyler Tanner, Molly Helmuth, Tyler Baker and many more.
It's not just the local drivers looking forward to the first race of the season, some of the Northwest top drivers will be on hand for the race including 2016 Summer Showdown and Mark Galloway 150 winner Tayler Riddle, 7-time touring Super Late Model Champion Garrett Evans, 2016 Idaho 200 winner Braeden Havens and Travis Bennett will get back behind the wheel of a Super Late Model after spending the last few years as a crew chief up and down the west coast.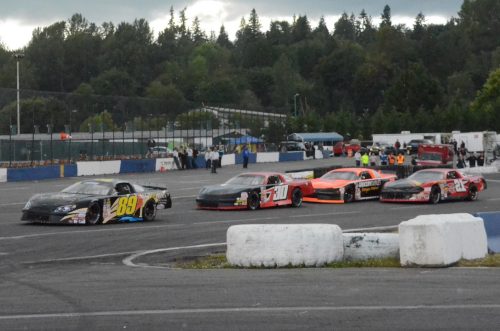 The Les Schwab Tires Street Stocks will be back once again for the 2017 season, and the battle for the championship will be highly contested with Fitzpatrick moving up in divisions. The class is coming off a strong year with 32 different drivers competing during the 2016 season. Some drivers to keep your eyes on will be Steve Woods, Darrell Lutovsky and Mike Marthaller Jr. who are all coming off good seasons.
One of Evergreen's perennial crowd favorites is the Outlaw Figure 8s, and once again they will be in action during the season opener. Seth Funden is coming off a championship year in the class, but he will have a tough battle on his hands with Chris Curtis, John Carlson and crowd of other drivers trying to conquer the dangerous Figure 8 track.
The Foster Press Mini Stocks featured one of the biggest stories in 2016 with Nat Barber winning the championship in memory of fellow driver Bob DeYoung. This year Barber will have tough task to repeat with drivers like Michael Fritz, Brad Thomas and many more trying to chase the hardware in the always exciting Mini Stock races.
The night will also feature the Interstate Batteries Hornets and Youth Hornets. Both classes feature side by side racing with large fields at every race. Youth Hornets feature drivers just 12-14 years old.
Evergreen Speedway has partnered once again with the Mighty 12's Alliance group for pre-race activities happening throughout the day. Many Seahawks themed cars, trucks, vendors, former players, special fans and more will be on hand for the special event.
The track is offering special $12 discounted tickets through March 12th on their website and kids 10 and under will be free at almost every race all year long.
Evergreen Speedway is located in Monroe, WA, on the Evergreen State Fairgrounds and is operated by High Road Promotions owners; Doug and Traci Hobbs.  Evergreen Speedway is Washington state's only NASCAR track and is also home to international touring series, Formula Drift and Red Bull Global Rally Cross.
For More Information or to purchase tickets visit www.evergreenspeedway.com or call 360-805-6117.