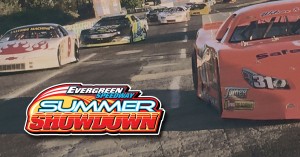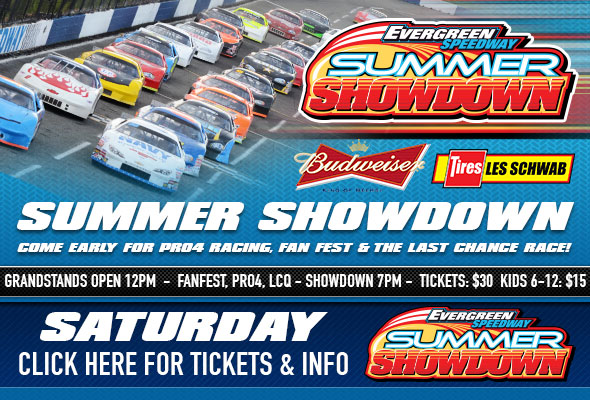 Summer Showdown 200, The Last Chance Qualifier & Pro 4 Alliance Presented by: Budweiser
Saturday, June 27
8:30 AM Registration Opens
9:00 Back Gate Opens
10:00 Brief Late Model Drivers Meeting
10:45 Pro 4 Drivers Meeting
11:30 Practice
12:00 Grandstands Open
FanFest, Live Music, Vendors, Car Show
2:30 Pro 4 Qualifying 2 Laps
3:00 Showdown Drivers & Spotters Meeting – At flag stand in grandstand
FanFest, Live Music, Vendors, Car Show
4:00 Showdown LCQ 50 Laps
5:30 Pro 4 Main Event 40 Laps
6:30 Opening Ceremonies
6:45 Start Your Engines for Summer Showdown – 200 Laps
TENTATIVE SCHEDULE – ABOVE EVENTS SUBJECT TO CHANGE
Tickets
Print Tickets at Home: http://www.etix.com/ticket/p/4035191/june-27th2015-summer-showdown-saturday-monroe-evergreen-speedway?country=US&language=en
MILITARY: Active, Retired, Reserve FREE with ID. Compliments of Event Sponsors and Evergreen Speedway
Adult General Admission $30
Kids (6-12) $15
2-Day Combo Pass $40
Reserved Seating $45
Reserved Seating Online: http://www.etix.com/ticket/k/9048517/2015-summer-showdown-combo-ticket-monroe-evergreen-speedway
Pit Passes:
Single Day: $40
LIVE TIMING: http://www.evergreenspeedway.com/live
SOCIAL STREAM: http://www.evergreenspeedway.com/post/summer-showdown-social-stream/
Outside the Pacific Northwest? Watch LIVE on FansChoice.TV
On Twitter @WAStateNASCAR #EvergreenSpeedway #ES61 #SummerShowdown
GRANDSTAND POLICIES
– ONE SOFT SIDE BAG OR COOLER NO LARGER THAN 14 x 14 x 14 inches.
– To ensure these items fit underneath grandstand seats and do not block walkways, coolers with
telescoping handles and wheels will not be permitted.
– One lightweight backpack. Bag can be similar to a daypack carried by school students, approximately
17inches in length.
– Fans can bring in one cooler and one backpack.
– Binoculars, scanners, headsets, cameras, not in a bag, worn separately over the neck or on the belt and
seat cushions carried separately are also allowed.
– All items brought through the grandstand gate will be inspected.
– The following may not enter the admission gates:
NO FIREARMS, NO OUTSIDE FIREWORKS or ALCOHOL.
Hard sided coolers, thermos and insulated cups of any size.
No umbrellas that obstruct fan view.
Any bags, backpacks, or containers larger than the allowed size.
None of the above restricted items may be left in or around the admissions gate area.
The above are subject to change without notice.
– To expedite entrance into the facility, guests are encouraged to arrive at the gates as early as possible.
Race Format
Qualifying
a. Qualifying order determined by pill draw before Friday practice. Late arrivals qualify first.
b. Two consecutive timed laps
c. Once you have taken the white flag, you have an official time. No re-qualifying
3. Heat Races and Line Up Procedure
a. Top finishers from each heat qualify for the top 24 spots in Showdown
b. 25-28 will be the fastest 4 by time who did not qualify through heat races. Do not have to run LCQ.
c. 29-32 will be top 4 from Last Chance Qualifier. Optional. Forfeit the prize
money to move up. You will be paid $600 LCQ Start money in addition to Showdown finish.
d. 33 & 34 Top 2 Evergreen NWAAS drivers not qualified.
e. 35 & 36 Provisional from Tri Track, SRL, Pacific Coast, CRA, SSS, RCMS etc. Tie Breaker will go to fastest qualifying time.
e. Heat races will be straight up by qualifying time
f. LCQ Race will be by heat race finish.