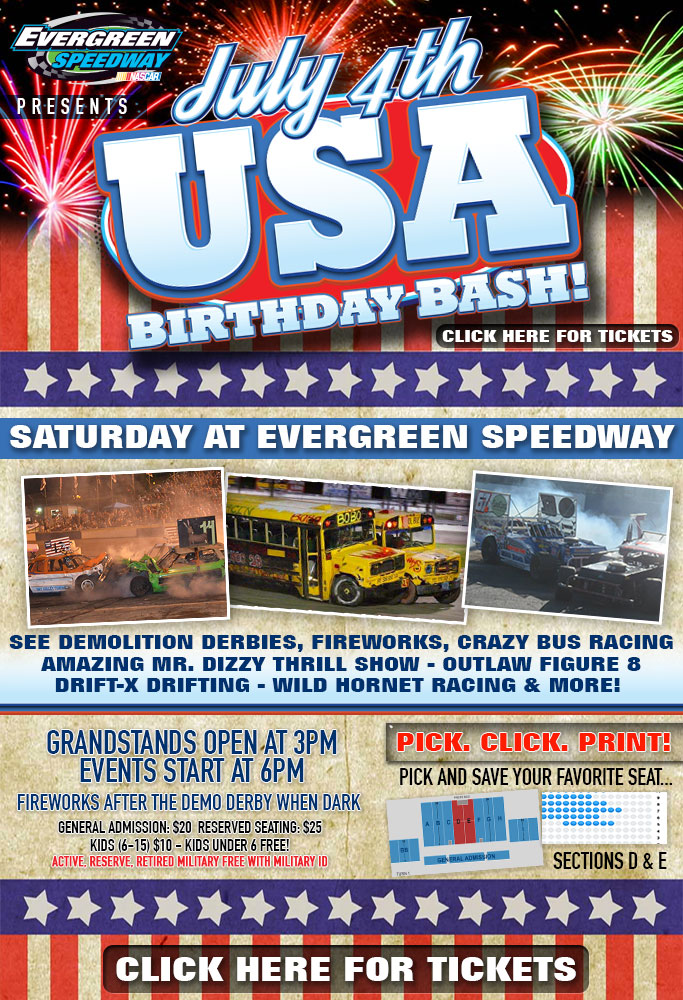 Click here to order tickets online.
Featuring:    Two Demo Derbies! Chain and Go Demo & Small Car Demo, The Return of Wild n' Crazy Bus Racing, Bump to Pass Battles, Mr. Dizzy Thrill Show, Outlaw Figure 8 Racing, Hornets, Stinger 8, Drift X Show, Plus HUGE FIREWORKS!!!
Grandstands Open at 3pm – Events Start at 6pm – Fireworks at the conclusion of the events.
General Admission (16+) : $20    Reserved Seats (Sections D &E) : $25
Children Ages (6-15): $10 — Under 6 FREE!
Active, Reserve, Retired Military w/ Military ID Free!
Senior Discounts Available.
Demo Derby Participant Info >>>> Click Here.
Grandstands – Allowed Items
THIS POLICY IS IN EFFECT FOR ALL MOTORSPORT EVENTS.
– ONE SOFT SIDE BAG OR COOLER NO LARGER THAN 14 x 14 x 14 inches.
– To ensure these items fit underneath grandstand seats and do not block walkways, coolers with
telescoping handles and wheels will not be permitted.
– One lightweight backpack. Bag can be similar to a daypack carried by school students, approximately 17inches in length.
– Fans can bring in one cooler and one backpack.
– Binoculars, scanners, headsets, cameras, not in a bag, worn separately over the neck or on the belt and seat cushions carried separately are also allowed.
– All items brought through the grandstand gate will be inspected.
– The following may not enter the admission gates:
NO FIREARMS, NO OUTSIDE FIREWORKS or ALCOHOL.
No Hard sided coolers, thermos and insulated cups of any size.
No umbrellas that obstruct fan view.
Any bags, backpacks, or containers larger than the allowed size.
None of the above restricted items may be left in or around the admissions gate area.
The above are subject to change without notice.
– To expedite entrance into the facility, guests are encouraged to arrive at the gates as early as possible.
Common Questions
When do the Fireworks Happen? – After the final Demo Derby and when dark. Typically around 10:00pm. Times are subject to change.
Can I save seats? No – You may only reserve seats online. Taping off large areas of seating in advance is discouraged.
Is there a Non Alcohol Family Section? – Yes. The North parts of the grandstands are alcohol free and are intended for families.
Already Have Your Tickets? – Proceed to the entry doors and ticket takers.
Animals – Animals are not permitted with the exception of service animals for impaired or disabled fans/employees and animals in training to be service animals.
ATMs – The Evergreen State Fairgrounds has ATM's located at entry gates and under the grandstands. Availability may be limited. Fans are encouraged to plan ahead.
Alcohol Sales
Regulations prohibit guests from bringing any alcohol into the Speedway. Alcohol may not be removed from the event at any time. Guests will be required to show proper identification before purchase. Evergreen Speedway reserve the right to refuse or discontinue service of alcoholic beverages at any time.
Bag Search
All bags and personal items are subject to search upon entrance into Speeedway. Any confiscated items must either be discarded or returned to a vehicle. Evergreen Speedway is not responsible for any prohibited items left at the gates.
Banners and Signs
Evergreen Speedway requests that banners and signs not be placed in the direct sight lines of other guests. Signs and banners may not be hung over the railings or disrupt the event at any time. The content of the banner may not be political, commercial or obscene in nature. Evergreen Speedway reserve the right and have sole discretion to permit or remove any sign or banner from the event at any time.
Camping – Managed by the Evergreen State Fairgrounds. Please see their reservations & policies here: http://www.evergreenfair.org/142/RV-Park
Concessions
Evergreen Speedway has several fixed and portable concession stands offering a variety of foods and Beverages including; Chicken Strips, Hamburgers, Hot Dogs, Nachos…
Credit Card Policies
Visa, Mastercard are all accepted forms of payment for ticketing, food and beverage purchases. A valid ID is required for all credit card purchases. Surcharges apply.
Exit/Re-Entry
Guests wishing to leave the Speedway but planning to return during the same the event must have their ticket and hand stamped at the gate prior to exiting. No alcohol is permitted upon exiting.
Parking
Parking both in paved and grass lots are managed by the Evergreen State Fairgrounds. Parking fees may apply.
Smoking Policy
Evergreen Speedway and the Evergreen State Fairgrounds is a smoke-free facility. Guests who wish to smoke while at Speedway are required to utilize the designated smoking areas located outside of the grandstand and common areas. Use of vapor and e-cigarettes is not permitted in the grandstands.
Solicitation and Distribution of Literature
Guests are prohibited from disturbing banners, booklets, business cards, commercial advertising, flyers, folders, handbills, leaflets, notices, pamphlets, or any other written or printed materials without permission from Evergreen Speedway.
Will Call
Tickets may be picked up at any open ticket window marked Will Call during the event. Guests should bring a photo ID when picking up tickets at will call.