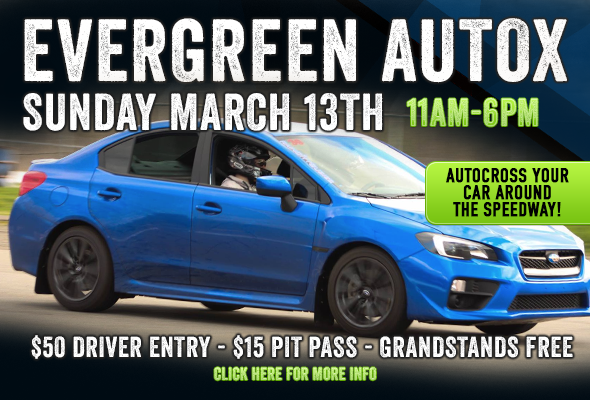 Test your driving skills and your car against a fun multi-turn course around Evergreen Speedway at the Evergreen State Fairgrounds in Monroe. Autocross is back with a full day of action on the track. This event is open to drivers of all skill levels and any type of vehicle that meets safety and tech requirements.
Events:  NEW! 3/13
View 2/28/15 Times | 3/15 | 10/18 | 11/21 | 12/12 | 1/9 | 2/6/16 |2/20
AutoX Event Schedule

8:30 a.m. Registration opens
9:00 a.m. Back Gate Opens
Full Schedule TBA on Facebook Groups & Events Page
*Schedule subject to change based on number of cars registered.*

Passes

$50 Car & Driver
$15 All Access Pit Pass
Entry Includes Transponder
Grandstands FREE
Registration REQUIRED

Driver Cap – 75
Vehicle Classes
Front Wheel Drive
Rear Wheel Drive
All Wheel Drive
Grandstands – Open to the Public: FREE
People under 16 are limited to grandstand and pit area for safety.
Grandstands are open to all with a great view of the whole track. Park in the main fair parking area off of 179th Ave SE.
Pit Pass  |  $15 per person
Pit are open to all ages.
People under 16 must be accompanied by an adult.
All minors "17 & Under" must have their parent or guardian sign the Minor waiver The form can be signed in person on the day of the event or contact the Speedway office to get information on how to fill out the waiver prior to the event.  CLICK HERE FOR FORM
Hang out with the drivers and staff track side.
Open-toed footwear is not allowed in the pits.
All drivers, volunteers, and people working on cars or standing in grid must wear full length pants. Shorts are allowed in pits providing you are not participating in one of the above activities.
Pets are not allowed in the pits.
Bring a DOT or SNELL (M, K, or SA certified 95 or newer) helmet and wear pants and shoes to ride shotgun.
Maximum pit speed is 10 mph. If you are going faster than a walking pace you are going too fast!
Tech Inspection Requirements
Safety Helmet: You must bring your own helmet. Helmet must be approved by Snell in the current or two most recent ratings (e.g. if Snell 95 is in production then that, 90 and 85 are legal).
Safety Belts: Original safety belts, at a minimum are required. Shoulder belts are not required, if your car did not come with them, but you must have a lap belt. Belts must be firmly attached.
Solidly Mounted Battery: The battery must be held down properly. If it can be moved at all, it will not pass. There are some additional battery requirements which may affect you if you have modified your car. The Tech Inspector will help you out with them.
Legal Tires: Tires must have measurable tread, and must be in good condition. Excessive weather checks or visible cord/plies will fail inspection.
Brakes: The brake pedal must be firm, with no loss of pressure when held down.
Steering / Suspension: The steering must be tight, with no excessive play. Wheel bearings cannot have excessive play.
Loose Items in Car: All loose items must be removed from the passenger compartment and trunk. This includes the floor-mats. You may remove the spare tire and jack, but you are not required to if they are properly secured.
Fluid Leaks: Excessive fluid leaks will not pass inspection.
Adequate Muffler: Your car must be quieter than 95dbA (RLS) measured 50 feet from the course at a place where you are under full throttle. Due to the possibility of losing sites for noise problems, this rule is strictly enforced. (If your car is quiet enough to avoid attracting Police attention, it will most likely pass the noise requirement)
Throttle: Accelerator pedal must have a return spring and operate freely.
You are not required to have your car registered for street use, but it must pass tech inspection.
Note: Speed Limit is 10mph on county property!
Absolutely no hooning in the Gravel Parking Lot behind the speedway or any surrounding property. If we discover you causing damage we will ban you from future events.
Time Your Ride at Evergreen Speedway |14405 179th Ave SE, Monroe, Washington 98272
Pre Registration Required
Oops! We could not locate your form.