Several new winners on a rainy Saturday night!
Monroe, WA- Even though the Pacific Northwest basked in the glory of temperatures in the 70's for most of the week, Saturday brought weather to Evergreen Speedway on Military Appreciation Night presented by Frontier Communications that forced the cancellation of the Super Late Model division and left the remainder of the classes scheduled to run rain or shine to alter their set-ups to run on a rain soaked 3/8's oval and figure 8 track.
Nat Barber continued his dominance in the Foster Press Mini Stock Division with a hard fought win over Zach Bristol and Cody Koroshes. Bristol is driving an Acura that competed the last two seasons in the Hornet division, and the PMS Power team has made huge strides this season to compete in this division. Barber is undefeated this year driving his car honoring the memory of Bobby DeYoung.
All 3 Figure 8 classes ran on this wet night. In the Buzz Inn Steakhouse Stinger 8's, Matt Somerville threw the kitchen sink at his car between the heat races and the main event to score the win, with Cody Hoopes taking a car that needed a ton of work from the last time it raced to a well-deserved 2nd place and Bryce Kolar getting his first podium finish in 2016 with his 3rd place finish.
The Monroe Grocery Outlet Super Stock Figure 8 class welcomed a first time winner to the stage, as Brandon Florer drove the 77 car to the checkered flag. Brandon's car wouldn't even start when his team started off the day, but with a lot of help, they got it running and running well! Quenton Borreson finished 2nd with Brian Little coming in 3rd.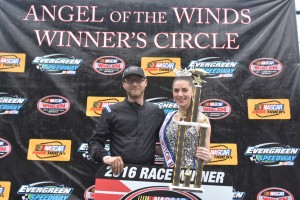 The Outlaw Figure 8's also saw a first time winner in Chris Harrison. Harrison held off a charge by the 90-Minutes of FEAR winner Nick Gunderson to get the win with John Carlson finishing 3rd.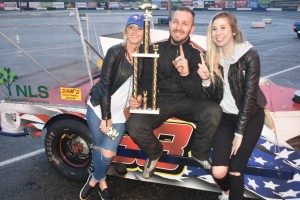 Chad Fitzpatrick picked up his 2nd win in the Les Schwab Tires Street Stock division. Chad obtained his first "rain win" and continues to lead in Championship Points. Darrel Lutovsky took 2nd and Jim Foti returned to the podium to finish 3rd.
The Rolling Thunder Big Rigs make their 2016 appearance at Evergreen Speedway on May 21st. Presented by Reardon Dodge, the Big Rigs never fail to impress the crowd. Also scheduled are the Northwest Pro 4 Trucks, the Interstate Battery Hornets, Outlaw Figure 8's and the V-8 Extremes. The Speedway celebrates Memorial Day Weekend with the running of the Galloway 150 Presented By Monroe Grocery Outlet on May 28th. This will be the first appearance on the 5/8's oval for the Speedway Chevrolet Super Late Models, and fans can expect entries from Washington, Oregon, Montana and British Columbia. The 29th will be featuring the annual Sean Peters Truck Demo Derby and a HUGE fireworks show. Tickets for all events at Evergreen Speedway can be reserved online at www.evergreenspeedway.com